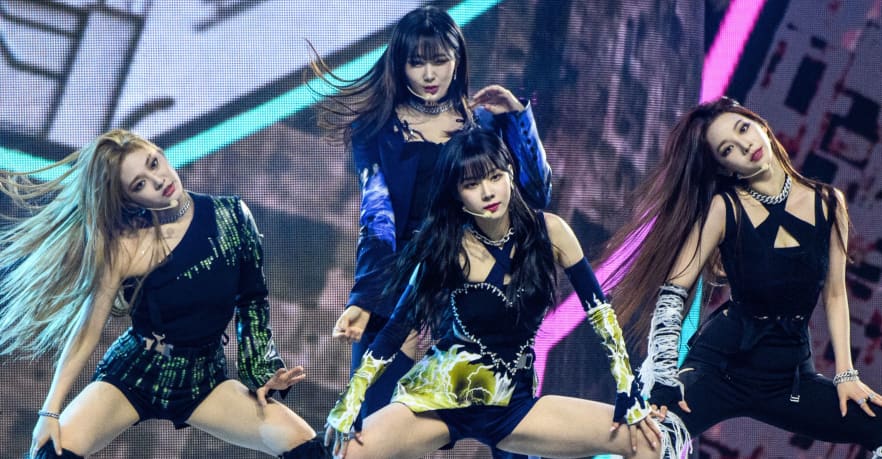 aespa and their online alter-egos brought the future to Coachella
After two years of living mostly online, the idea of ​​an IRL group with avatar alter-egos seems like a logical next step for the entertainment industry. However, K-pop fans have already been living in the future for 18 months, and this weekend at Coachella they finally got to meet aespa offline.
For the past 18 months, the four-member group has only been able to interact with fans through music videos and vlogs, as well as concept teasers depicting their VR-based story, where each member has their own individual digital counterpart – born of personal data uploaded and shared on the Internet. Known as æ-aespa, avatars live in a virtual world beyond our own but coexist with their real-life counterparts, both individually and collectively.
Not so different from the alter-egos we feature on social media every day, the SM Entertainment group is a concept in tune with the times, even if it was inevitable that they would end up getting a musical act whose art is based on the ever thinning veil between the digital and the physical. And aespa fits the bill perfectly, thanks to their ever-expanding storyline, which includes an interdimensional battle where aespa and æ-aespa unite against a villain called Black Mamba – a sinister virus that disrupts and corrupts the connection between the girls and their digital selves. .
In real life, however, aespa – made up of members Karina, Winter, Ningning and Giselle – are the first girl group in six years to join the roster of acts focused on the concept of SM, which includes artists like SuperM, a supergroup known as the "Avengers". of K-pop. But while they may be new to the world of SM culture, aespa have already impressed fans with their Wild EP and a handful of singles to their credit. So it only made sense that aespa would take the stage during the second weekend of Coachella for 88Rising's "Heads in the Clouds Forever" event on April 23.