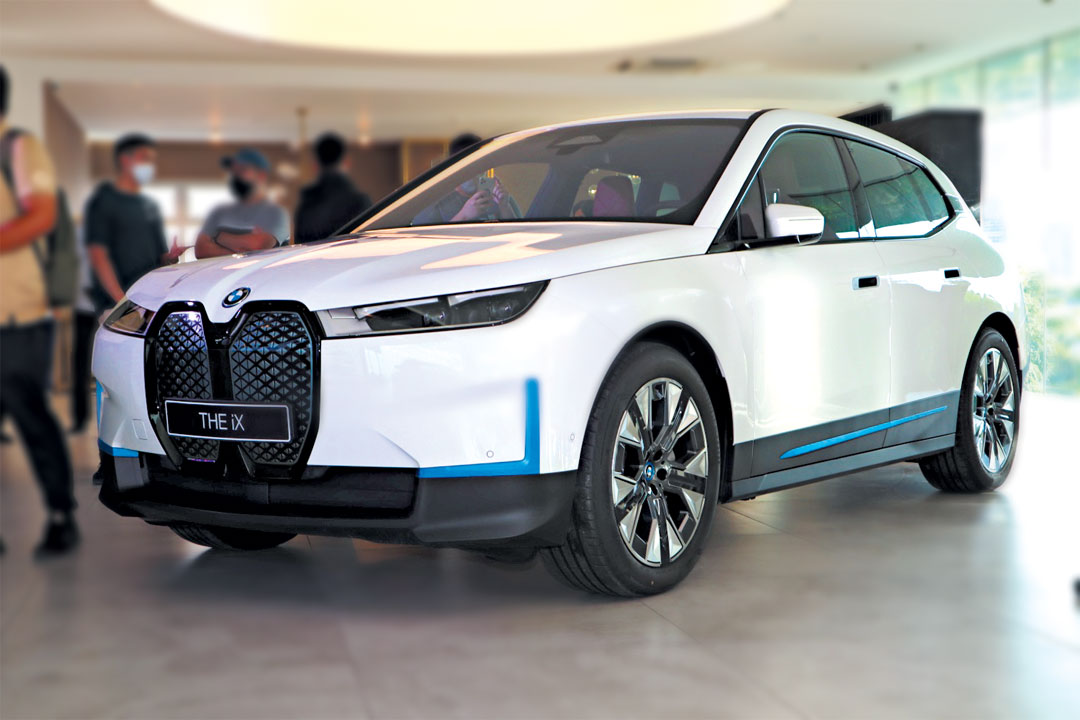 BMW Philippines goes electric with iX, priced at P6.29M
SMC ASIA CAR Distributors Corp. officially ushered in the electric era of BMW Philippines. Last Thursday, the official importer and distributor of the Munich-based car brand officially unveiled the BMW iX. Touted as the BMW Group's "technology flagship", the iX is a fully electric SAV (or Sports Activity Vehicle, the brand's language for SUV) that's now available to order with an initial 6.29 tag. million pesos.
This price also includes a wall box charger to be installed by BMW's so-called "i-partners" at the buyer's home. BMW is also quick to note that the iX is backed by a five-year BMW factory warranty, eight years for the high-voltage battery and a six-year BMW Service Inclusive warranty.
In an exclusive interview with this writer, BMW Philippines President Spencer Yu said, "Range (iX) is 370 kilometers – easily more than one person will drive in a day… For long trips off out of town, that's something we still have to work on – especially with public charging. Hopefully, with the passage of the EV (electric vehicle) law, things will start to improve and we should see more charging stations. It's the single most important thing we can do to reduce range anxiety, which worries many electric vehicle buyers.
For those looking for a more traditional Bimmer, BMW Philippines has also launched the all-new BMW 220i Coupe M Sport, which sells for 3.69 million pesos. The vehicle is powered by a BMW TwinPower Turbo 2.0L inline four-cylinder petrol engine with a maximum torque of 300 Nm and a maximum power of 184 hp. The mill is mated to an eight-speed Steptronic Sport automatic transmission, which achieves a 100 km/h standstill time of 7.5 seconds.
Returning to the iX, even though it lacks an internal combustion engine, BMW maintains that it is "perfectly designed to combine exceptional ride comfort with sporty driving characteristics". It features an aluminum space frame and carbon fiber reinforced plastic (CFRP) in the roof, sides and rear, which simultaneously results in increased rigidity and reduced weight. A drag coefficient of 0.25 also helps to positively impact range.
To help with the vehicle's center of gravity, the iX's high-voltage battery is positioned low on the underbody. Weight has been evenly distributed for more agile handling – a quality further made possible by a double-wishbone front axle, five-link rear axle, lift-linked dampers and an electric steering system with Servotronic function and variable ratio .
An all-wheel-drive system in the BMW iX "transmits exactly the right amount of drive torque to the front and rear wheels in all driving situations". It can range from a pure rear-wheel-drive mode to an off-road mode. The brand's fifth-generation iX eDrive technology is "centered around a drive unit that brings together the electric motor, power electronics and transmission in a single package", to achieve both the density of power and efficiency – not to mention the economical use of the installation space between the front and rear axles.
The two engines of the BMW iX deliver maximum torque "immediately after starting" and maintain it over a wide rev range. Speaking of which, the system generates up to 326hp and 630Nm. BMW prepares the iX for the future with a new generation of sensors, a software stack and a powerful computing platform. It carries five cameras, five radar sensors and 12 ultrasonic sensors.
A safety kit includes "the most comprehensive set of standard driver assistance systems ever seen on a BMW, plus a host of innovations", according to BMW. The iX receives a forward collision warning system which also detects oncoming traffic when turning left (in countries with right-hand drive vehicles) as well as cyclists and pedestrians when turning left. right turn. Its cruise control with brake function offers "situation-dependent distance adjustment". An exit warning function, on the other hand, alerts to the presence of cyclists or pedestrians in the surrounding areas before the doors open. A remote flight recorder is also new, as well as a parking assistant with reversing assistance camera and the reversing assistant.
On the outside, one immediately notices the BMW kidney grille, the surface of which is almost completely closed. The grille collects and integrates a camera and radar sensors. Flanking the grille are LED headlights with high beam assist and 21-inch aero wheels.
Soft-closing doors open to welcome passengers into an interior lined in olive tanned natural leather. It comes with an ambient lighting package and four-zone automatic climate control – the latter including a nanofiber filter to purify cabin air. A Harman Kardon surround sound system is integrated into the headrests, and a 4D audio function using "bass shakers" in the front seats offers a unique experience.
The latest iDrive display and operating system makes its debut in the BMW iX, expanding the "interaction between driver and vehicle". Based on the BMW Live Cockpit Professional running on the new BMW 8 operating system, it enables touchscreen operation of the BMW Curved Display and verbal communication with the BMW Intelligent Personal Assistant, which has also undergone a Upgrade.
The BMW Curved Display "is a fully digital display group formed by a 12.3-inch information display and a control display with a screen diagonal of 14.9 inches housed together behind a surface glass angled towards the driver". It includes smartphone integration, Android Auto, Apple CarPlay and standard storage for wireless charging.
"We are very grateful for the recent passage of the Electric Vehicles Act. And that will pave the way for better infrastructure, because the private sector needs to work with the government on electric vehicle infrastructure," Mr. Yu told this writer.
Due to an industry-wide shortage of semiconductors and, now, even wiring harnesses (a result of the conflict in Ukraine), vehicle production has been hampered. In a Reuters report, BMW said: "Due to supply bottlenecks, disruptions to our production will occur…We are in intensive discussions with our suppliers."
For now, while BMW Philippines cannot promise immediate availability of the iX, the company is taking orders, particularly through RSA Motors dealerships in Greenhills and Libis.
One thing is certain, Mr. Yu believes that Filipinos are already ready to go electric, and national policies and legislation will surely give additional incentives to those who are still on the fence.
"Prior to the introduction of the iX, I had been very surprised at the reception and anticipation of the car – judging by the number of people who want to get into BEVs. will be here to stay, and that is the future, and that will take us to the next stage – 20, 30 years and beyond," he concluded. Cape Maceda Aguila