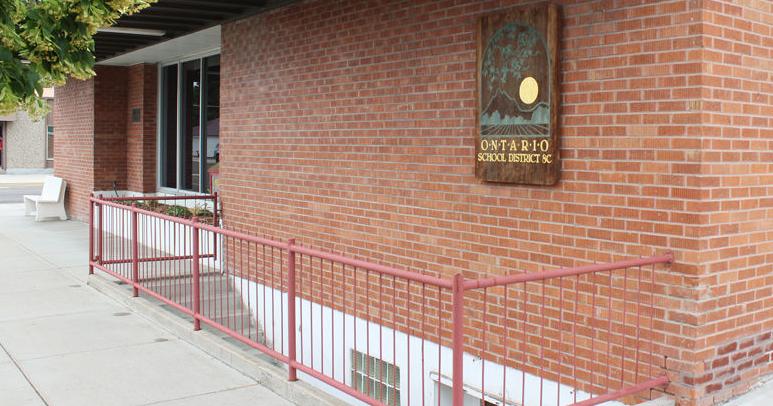 DA Won't File a Case Against Board Member Who Accepted Audio File of Secretly Recorded Staff Meeting | latest news
[ad_1]
An investigation into whether Ontario School District Board member Derrick Draper's acceptance of a secretly recorded staff meeting has ended as the Malheur County prosecutor chose not to lay charges against him after consulting with the Oregon Department of Justice and then reviewing Sgt. Don Ballou of the Nyssa Police Department.
According to information received from District Attorney David Goldthorpe's office on March 23, he first contacted Colin Benson at the DOJ on February 23 to see if the recording of a Zoom meeting qualified as "telecommunication", in which relates to the revised statue of Oregon 165.535.
When asked if he usually contacts the DOJ for crimes that are not crimes, Goldthorpe told the newspaper in an email on March 3: "I contact other lawyers whenever I have a new or new problem because it shouldn't be something I decide on my own.
In his first email to Benson, Goldthorpe said that a "principal of a local high school complained that a participant in a recent Zoom meeting recorded it, apparently by means other than the 'recording' function in Zoom, which informs all other participants that they are registered. "
He goes on to explain that the participant then gave this recording to a member of the school board.
"Communications may also contain confidential student information," Goldthorpe wrote. "Sounds like the kind of problem that is likely to arise elsewhere, given the prevalence of virtual meetings this year, so do you know if the DOJ has a position on this issue?" "
Emails then go back and forth between the district attorney and Benson to determine what was recorded (voice only or voice and video), whether participants knew the person's recording was online, or whether they knew that the person was online but did not know it. he or she was recording it.
"As you know, it is common in Oregon for one party to record phone calls without notifying other participants – police frequently do this with pretext calls and law firms, for example, regularly record. all phone calls without disclosing the recording, in order to help answer, I will need more context.
Goldthorpe explained that the person who made the recording was a "guest participant" and that at this point it was not known if it was voice only or if it was recorded with a cell phone or another device. Goldthorpe mentioned to Benson that Dan Wendel of the Department of Justice was in town for another case and that he had directed it by him, with Wendel claiming that it was "a telecommunication, therefore authorized, whatever. or the way it was recorded. "
To this, Benson said he agrees with Wendel and that without knowing more, it would be difficult to distinguish it from a regular phone call.
After being copied from this email, Wendel weighed himself in.
"Since telecommunications are 'the transmission of all kinds of writing, signs, signals, images and sounds using wires, cables or other similar connections', I think Zoom matters." , wrote Wendel.
According to Oregon law, only one attendee should consent to share the recording with someone else, paving the way for one person to record a meeting without their knowledge and hand it over to someone else. .
With that in mind, Goldthorpe reviewed the report, including excerpts from audio recordings between Nyssa Police Sgt. Don Ballou and the staff; computer usage log, a formal request from the Ontario Police Service, emails from Elizondo with Zoom IDs and other documents including 17 signed staff complaints.
Staff concerned about confidential information and breach of trust
Staff at the Ontario high school who were interviewed during the investigation, as well as principal Jodi Elizondo who filed the complaint, said they were concerned about whether confidential information about the students had been recorded and shared.
After discovering that the information had been recorded without their knowledge and shared outside of the meeting, around 30 staff members signed a complaint letter sent to council on January 28. had "undermined our ability to trust ourselves" and had an impact on the "collaborative, supportive and working environment" required in an educational environment.
The board responded with a letter to staff acknowledging the concerns and encouraging employees to fall back on "established policies and procedures when they have a concern." One of those policies, according to the letter from the board, was "the prohibition of retaliation."
However, the jury did not recognize that any of their own had violated the policy by failing to compel that staff member to follow the appropriate chain of command established in the policies and procedures he cited.
During a phone call with the Argus on March 18, Draper declined to discuss the recording. However, he said he wanted to ask the following question as food for thought: "Why was it so important for a whistleblower to go as far as he did and pass it on to a member?" from the administration board ?
It should be noted that the Board of Directors stated in their response to staff that if someone wanted to complain anonymously against the director or staff, there were other channels to do so, including "representation. union and external state agencies ".
Since the prosecutor's decision, Draper has not referred several requests for comment to the Argus regarding this and other issues, and has asked the Argus through board chairwoman Renae Corn to speak to his lawyer, but Corn and Draper did not provide this contact information.
Incident report
The Nyssa Police Department conducted the investigation at the request of Ontario Police Chief Steven Romero, since Elizondo's husband, Tomas Elizondo, is an Ontario police officer.
"I realize that these investigations require highly qualified personnel and I thank you in advance for dedicating valuable Nyssa PD resources to this request," reads Romero's letter to Rau.
In the incident report, Ballou said he read Draper's email on the board he sent after receiving the recording and believed Draper knew the identity of the teacher who recorded. the conversation. However, when he tried to meet with Draper to question him about it, Draper told Ballou to speak to his lawyers instead.
According to the report, seven staff members were interviewed on February 23, including Elisa de los Rios, Tyson Beggs, Sarah Huss, Caren Poff, Anne Marie Presley, Rod Williams and Ken Martinez.
It should be noted that several of those interviewed believe that it may have been Huss who recorded the meeting, with one stating that this was due to the fact that she had shared information with Draper in the past. "because of resentment between the administration of the building and herself," and another pointing out that Huss works directly with Draper's children in FFA.
Huss in her interview said she did not attend the meeting because she was in the emergency room, another staff member had informed her and she could not recall if there had had another meeting that day.
Elizondo provided logs and Zoom IDs from the tech department showing that Huss attended one of the staff meetings that day, the afternoon meeting.
Elizondo told Ballou there had been two staff meetings on January 20, one at 7.40 a.m. and one at 2 p.m., with only high school staff invited. Although she cannot recall the full discussion of those meetings, she told Ballou that staff members openly expressed their opinions and frustrations with the school board and its decision to reopen their school. school district.
For those who wish to read the full incident report, it is available on our website inside this story.
Story to note
This is not the first time that Elizondo has contacted officials outside of the school and the board about Draper's actions.
On October 26, 2020, a lawyer representing Elizondo sent several letters to the Ontario School District Board of Directors warning them that legal action could be taken if the actions of board member Derrick Draper are not dealt with. .
The letter mentioned that the behavior at issue was "Draper's attempts to use his position on the Ontario school board to intimidate" Elizondo and "damage his professional reputation at board meetings, knowing full well that" she doesn't have the same power or the same platform as he does. during Board meetings. "
After meeting in executive session, the board voted unanimously (with Draper recusing himself) for President Corn to respond to this complaint.
Additionally, OHS staff have called for relief outside the school and the board, according to Ryan Roulston, union president for Ontario High School, in an email Feb. 25.
This included contacting the Oregon School Boards Association to provide a second opinion on this matter to our board, who "in short, said the answer was that our board's decision is final."
Because the case was an alleged crime and a violation of board policies and not a contractual issue, Roulston said the union would not be involved.
He said the other actions staff can take are "the same as any member of the Ontario community; we basically have two options:
1. Letters and public comments can help change the Council's mind; and
2. When that fails, we can elect new directors to the board who seem to better match our community.
Roulston said it was "far too early" for him to comment on who the association might support or what seats they would seek to replace, however, he said it was clear the staff had "already exhausted all detailed steps involved in option # 1. "
To this, he said the Association's leadership was considering formally approving a candidate for the board of directors.
The terms of office expire for four members of the board of directors, three of whom ran unopposed in the last election (Renae Corn, Blanca Rodriguez and Derrick Draper) and one of whom (Craig Geddes) was selected by the board of administration to fill the seat vacated by then-president Mike. Blackaby in July 2020, who said he resigned from the board because they would not release the factual findings of a tort investigation filed by Director Eric Evans earlier this year – the. Rodriguez, Draper and Geddes have requested their seats; this time around, they'll all run against someone in the special district elections in May.
[ad_2]