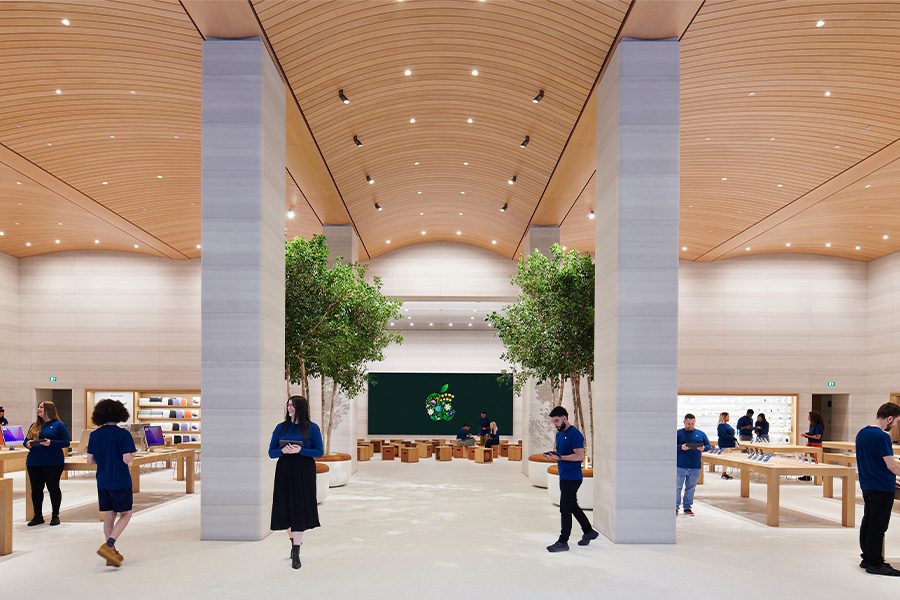 Foster + Partners designs the latest Apple Store in London
Apple Brompton Road has opened in the Knightsbridge area of ​​London, between high-end department stores Harvey Nichols and Harrods. Global architecture firm Foster + Partners, a frequent collaborator with the tech company, is behind the new retail space, which features arched floor-to-ceiling windows.
"Apple Brompton Road is an oasis of calm in a bustling and vibrant area of ​​London," said Stefan Behling, Senior Managing Partner at Foster + Partners. "Customers interact with Apple's incredible line of products and experience personalized customer service in a unique setting that incorporates historic and natural elements."
Beneath 23-foot-high ceilings clad in undulating wood, the one-story store is lined with eight Ficus trees, a nod to nearby Hyde Park. Castagna stone columns are featured at the heart of the space, culminating in a learning and event space equipped with a large video wall. Known as the Forum, this section of the store features a mirrored ceiling made of specialist stretch fabric and audio technology discreetly integrated into the columns. Built-in light fixtures are designed to echo the color and finish of the interior's wooden surfaces, enveloping the sunny space in a warm, soothing palette that makes nature its muse. Stone and terrazzo are also present to accentuate the bath stone and red brick facade.
More HD:
The best new rooftop pools around the world
HD Announces Wave of the Future Class 2022
What I Learned Podcast: Little Wing Lee