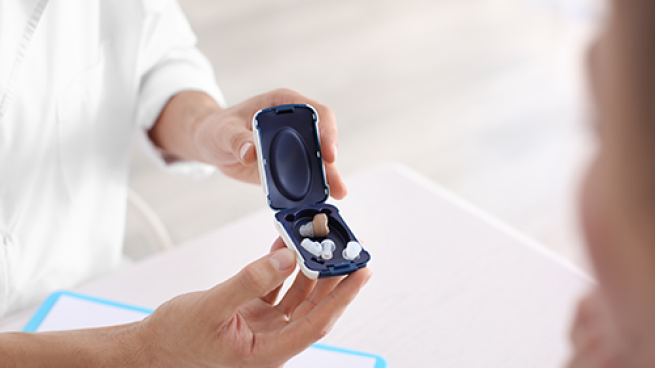 Major retailers start selling OTC hearing aids
"Walmart is excited to offer customers a wide assortment of high-quality hearing aids at a more affordable price, helping them achieve their goal of being the number one shopping destination for shoppers." said Reitnauer.
Walmart's assortment of OTC hearing aids range from $199 to $999 a pair. Options will include top brands like Bose-powered Lexie and HearX that will offer cutting-edge technology like Bluetooth and self-adjusting app capabilities and low-profile, sleek designs at everyday low prices, Reitnauer said. .
"Nearly 30 million American adults could benefit from the use of hearing aids, making it a critical part of the health priorities of many Americans. People with hearing loss are more likely to suffer from social isolation and depression, are three times more likely to be at risk for dementia, and have an increased risk of falls and hospitalization," said Reitnauer.
"A person's 'overall health' is a combination of many factors, including hearing, that influence physical and mental well-being," said John Wigneswaran, chief medical officer at Walmart. "Providing easy access to over-the-counter hearing aids – something that seems quite small – is a solution that can improve our customers' health outcomes and their ability to lead healthier, better lives."
[Read more: Eye and ear care still driven by pandemic-related trends]
To help customers easily understand their OTC hearing aid options and Walmart's offerings, Walmart said it provides additional online resources to help customers find the device that's right for them.
"My dad and I have hearing loss, so I understand firsthand how it affects a person's ability to connect with their environment," said Tammy Randall, associate at the Vision Center in Oxford, Alabama, at the over the past 10 years. "When I was able to help find a solution for my dad, nothing touched me more than when I said 'Dad' and he was able to hear it clearly for the first time. Knowing the real difference this access has for people makes me so happy to have the opportunity to offer others the chance to find an affordable product that works best for them.
Additionally, Walmart noted that customers can also easily access a full range of health services to support their overall health and proactively manage their health through preventative care at Walmart Health Centers. These state-of-the-art Walmart Health Centers offer hearing tests and other healthcare services to customers with a team of trained healthcare professionals who can help them assess potential hearing loss, rule out conditions underlying conditions and whether a hearing aid is right for them.
A wide assortment of over-the-counter hearing aids are now available at Walmart.com and at Walmart Vision Centers in Colorado, Michigan, Missouri, Ohio, Pennsylvania, Tennessee, and Texas, as well as at 474 Sam's Club hearing aid centres. OTC hearing aids will soon be available at other Walmart Vision Centers nationwide. To help customers buy the products that are right for them in a way that works for them, eligible customers can use Affirm's pay-over-time options with no late or hidden fees, the retailer said.
[Read more: Eyes — and ears — on the horizon: Trends driving eye and ear care]
Lucid Hearing, a Fort Worth-based provider of advanced hearing technology and audio solutions, offers its OTC hearing aids to consumers at more than 450 Sam's Club locations nationwide.
"We are ready and excited to bring consumers affordable and accessible hearing aids that comply with all FDA regulations and to provide the hard of hearing with a wide range of product designs and features," said Jason Kidd, President and COO of Lucid Hearing. "Our technology for these devices has been in development for years and is based on research conducted in collaboration with the University of Texas at Dallas, a leading audiology research university."
Lucid Hearing offers free hearing tests for people ages 19 and older at more than 500 hearing centers across the country, most of which are located on Sam's Club premises. Lucid's OTC hearing aids are generally priced between $199.99 and $1,699.99 and can be purchased through Sam's Club both in-club and online, as well as other retail outlets and through Amazon and lucidhearing.com. Sam's Club prices for Lucid's OTC hearing aids will range from $199 to $799.
Bennett Griffin, executive vice president of research and development, noted that Lucid Hearing's OTC hearing aids will offer many features, including wireless streaming and various styles, including discreet in-ear offerings. He added that Lucid's significant investment in scientific and innovative preset programs developed as a result of UTD audiology research offers a unique advantage in that they will cover the vast majority of consumers' perceived needs for mild to moderate hearing loss.
"Lucid Hearing has deep roots and decades of experience in hearing research and technology," Griffin said. "We are now able to bring our expertise in OTC devices to millions of consumers who otherwise might not get help for their hearing loss, allowing them to reconnect with the sounds and experiences that matter most."
CVS offers hearing aids online.
The retailer offers the Go Hearing + Go Lite and Go Hearing + Go Prime hearing aids. The Go Lite works great for small groups or for watching TV, while the Go Prime offers additional features that make hearing easier in a variety of environments, the retailer said.
Both versions feature an almost invisible design, adjustable volume and three dome sizes. Each version comes with a portable charging case that charges in two to three hours and can charge up to six hearing aid charges. Each aid gets up to 30 hours of use from two to three hours of charge time in the case. The Go Prime has all of these features plus an all-digital processor, six channels and 12 bands, three preset programs, noise reduction, feedback cancellation and memory recall, CVS Health said.