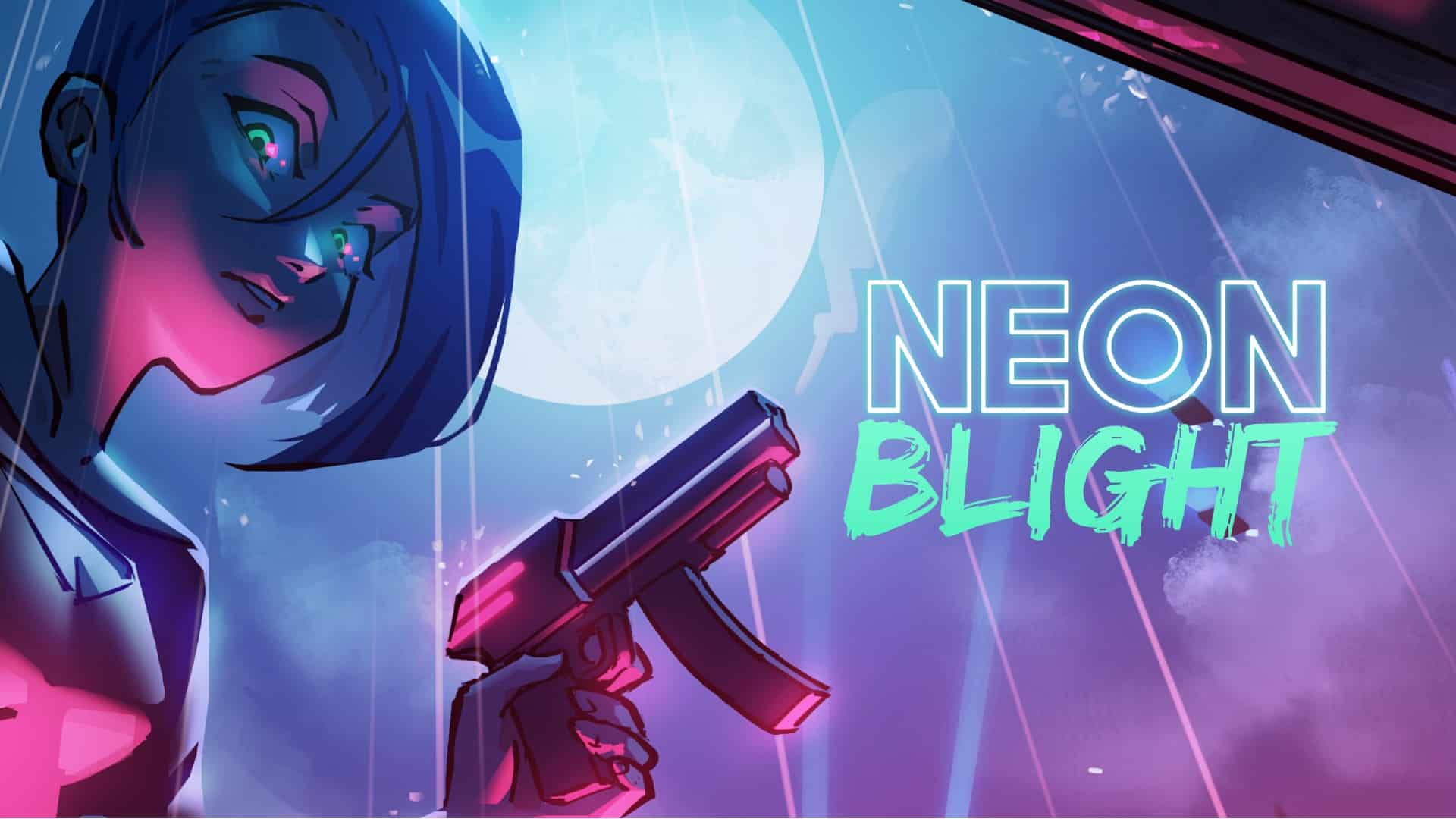 Run a store, shoot bad guys, repeat
A lighthearted introduction to bullet hell and commerce, Neon Blight is set in an Old Town neighborhood called Eden where you play as Lara, an ex-cop in search of the ultimate weapon. Visit different areas of this cyberpunk world where you face hordes of enemies and challenging bosses.
Can Neon Blight go hand-in-hand with the existing bullet hell and rogue-lite titles we love? Let's explore this in our Neon Blight review developed by a three-man team at Bleeding Tapes.
History & Art
Neon Blight's pixel art style allows for some of the most immersive environments I've seen so far, especially when exploring the city of Eden. I have vibes reminiscent of other pixel games I've played like Eastward and BIOTA
Honestly, the story wasn't really engaging since I jump right into running and shooting every time I see these kinds of games. If you like to read a lot of dialogue, you might enjoy the old-school feel of this game.
Neon Blight's setting takes us to the era of cyberpunk. Along with finding the ultimate weapon, Lara is about to shut down HIEMS, a megacorporation founded on June 8, 2034 by Christophen Hiems.
He was considered one of the brightest people on Earth and was responsible for creating the brain chip. It is a device that stores brain activity and memories in digital form.
Later in his life, he and his team created technology that allowed hydrogen-powered vehicles to levitate.
After the "Yellowstone event", the company was funded by the UN to recover the remaining structures and technologies from North America. HIEMS has been a stepping stone towards creating stronger and more sustainable urban infrastructure for the next generation.
Some think that HIEMS has more operations behind the scenes than it seems. Some even blame society for the highly infectious burn virus.
If you want to learn more about the lore of Neon Blight, you can check out the development blog.
audio
In terms of audio design, dungeon crawling was immersive. However, this can get boring at times, especially if you're used to enemy attack patterns by now.
I understand where the developer's direction is coming from that they want players to sweat a bit when exploring Eden's outer borders, but it could have been better if there was background music during the exploration rather than during boss fights.
Gameplay
Neon Blight actually has some potential when it comes to implementing their rogue-lite mechanics. Store management was also a nice addition. I immediately saw the inspiration of Moonlighter, which is also a game that offers store management and dungeon exploration.
You can play Neon Blight with a mouse and keyboard (MnK) or a gamepad. Personally, I prefer playing with an MnK because you're going to have to deal with a lot of aiming.
Store management
One of the features of Neon Blight is that you can manage your own weapon store. I was a bit disappointed with how they implemented this section. The store terminal didn't have much use.
For example, the Log does not log entries where a customer was happy or angry about the prices that were given on certain weapons.
At least the developers got the buying and selling part right. I also like that the store hours are a bit flexible since you can decide your opening hours. I just wish they explored the management aspect of the shop more as they are well versed in the shooting mechanics.
If there is anything to improve, I want to see different scenarios each time you operate your weapon shop. An example might be someone who didn't pay with their chosen weapon. You may have the opportunity to take on rowdy customers in a shootout.
Shooting and exploring
Every time you exit Eden, you always spawn at The abandoned forest. From here you have the opportunity to explore different regions from the outer border. During my first few games, I observed that some parts of the map did not have enough enemy spawns.
I also got impatient and bored while exploring the map. At the same time, I ran into some weird card issues. On the bright side, the developers were able to fix some of these major issues immediately once I reported them. Let's just hope the team doesn't burn out.
The boss fights are also quite satisfying, but it can get boring if you take them on and don't have powerful weapons to finish them off quickly.
Money Gritch Glitch (Bonus)
The only issue that helped me was that if I only had half a heart left and had looted a lot of weapons, I would pause and save the game outside of Eden.
Once I restart the game and load the save file, it will take me back to the shop with all my loot in my inventory for sale (stonks).
The verdict
I want to root this game so it has more content in the future, but as it stands I really don't see any longevity in terms of replayability. You can get bored once you've collected the weapons and cleared all the bosses.
It's probably a good top-down shooter if you want to get to grips with a less stressful version of bullet hell. There are plenty of better ones out there and this game might still have a long way to go.
But if the developers keep listening to community feedback, this has the potential to become one of the best pixel games we've seen in a while.
Honestly, this is the kind of game where if I don't have a beefed up PC to play Cyberpunk 2077, I could probably consider this as an alternative.
We hope you enjoyed this Neon Blight review. Get it on Steam if you like this type of games. Also, feel free to explore the rest of our site for more reviews and other guides.
What did you think of our Neon Blight review? Share what you think in the comments below.
This review is based on the PC version of Neon Blight. The key was provided by Freedom Games