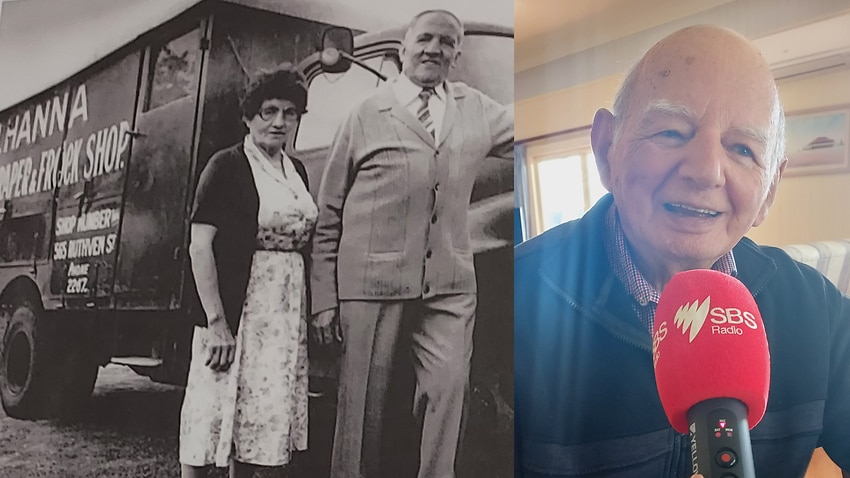 SBS language | From horse-drawn cart to luxury store: The Lebanese families who transformed Toowoomba in 100 years
Those who visit Hannas can't help but see a touching old photo near the entrance of Norman and his wife Lavina receiving customers.
The Hanna dynasty started with a traveling horse and cart from which Norman sold fruits and vegetables, then moved on to clothing and fabrics.
Meanwhile, the Stevens family, also descended from Lebanese migrants, celebrates six generations and 100 family members in Toowoomba.
---
Strong points
The Hanna and Stevens families migrated over 100 years ago to Toowoomba to become an essential part of the fabric of society there.
A traveling truck selling vegetables, fabrics became one of Toowoomba's most prominent stores in the mid-1950s and is known as "Hannas" to this day.
The Stevens family celebrates six generations and 100 family members in Australia.
---
The Stevens family also left Kfarsgab, on the northern side of the Kadisha Valley, a few decades earlier to escape starvation.
Their ancestor, Michael, and his wife Susan, walked from Sydney to Toowoomba on a six-month trip in 1895.
Norman and Lavina Hanna first settled in Goondiwindi with their eldest, three-month-old Joseph, along with Norman's brother, Jamil.
They stayed there for six months to adjust and learn English, after which the little family moved to Toowoomba to begin their journey of stability and there was a large Lebanese community waiting for them.
Norman and Lavina had 10 children, six boys and four girls, and the whole family and grandchildren were supported by selling fruit and later clothes and fabrics from a cart.
Son John spoke about his parents' migration and said:
"My father came through the Suez Canal to Perth and then to Sydney and my brother Joe was three months old," he said.
My mother used to grow vegetables and pistachios which my father sold on his cart and both worked hard.
"He was driving around with his cart as a salesman and his cousin from Sydney suggested he open a store in Toowoomba."
Prior to this, Norman's cart had been replaced by a lorry he had purchased from the Stevens family in Derby.
Hannas' Red Curtain Truck has become recognized throughout Toowoomba and surrounding areas as a traveling fabric and clothing store.
Although Norman was a stranger to Australian language and culture, he quickly developed long-term friendships with his customers and in the mid-1950s he opened his first store with his sons Joe and John working alongside him.
Then, when each of their eight brothers finished school, they also started working at the store.
Norman and his family have embraced the best of Australian life without losing touch with their roots and language heritage, John said.
John says he feels Lebanese despite being born and raised in Australia and loves Lebanese food, especially "Kubba".
The Stevens family documents past struggles on the road to success
The Stevens family has their own history and challenges, as well as one of Toowoomba's oldest migrations.
Some believe that the Stevens family descends from the family of Stephen Shamshom, who left Lebanon over 100 years ago.
Collin, the third son of Vince and Rachel Stevens, told SBS Arabic24 how his grandfather, Michael, emigrated to Australia after losing his family and sisters to starvation during World War I.
Michael's grandfather emigrated to Australia in 1895 and worked there until 1907 when he returned to Lebanon to marry Susan and return to Australia in 1910.
"My story began with my mother, Michael and Susan's eldest daughter, born September 28, 1911," Collin said.
My father was born in Lebanon in 1907 and unfortunately all we know of his story is that he lost his family and loved ones to starvation in World War I and his uncle brought to Australia in 1921.
Michael and Susan's love has produced six children, 40 grandchildren and the Stevens family today celebrates their sixth generation in Toowoomba, while Collin's 64-year marriage has produced 12 children and seven grandchildren.
"We are celebrating six generations and 100 members of the Stevens family in Australia," he said.
Collin said: "My grandfather and his sister walked from Sydney on a six month trip and so as not to get lost on the road, they walked along the train tracks with a piece of paper on which was written the name of the city – Toowoomba – where they were going to settle.
Because the family motto was service, Michael and Susan were successful in every job they did and in every store they opened, he said.
"My father was illiterate, but my mother was educated, so they collaborated in every business or store he founded, and their motto was service and they left a mark on Toowoomba," he said.
Collin, of Australian origin, revealed his attachment to Lebanon, although he was never able to visit it:
"I'm Australian of Lebanese descent and my parents didn't speak Arabic in the store," he said.