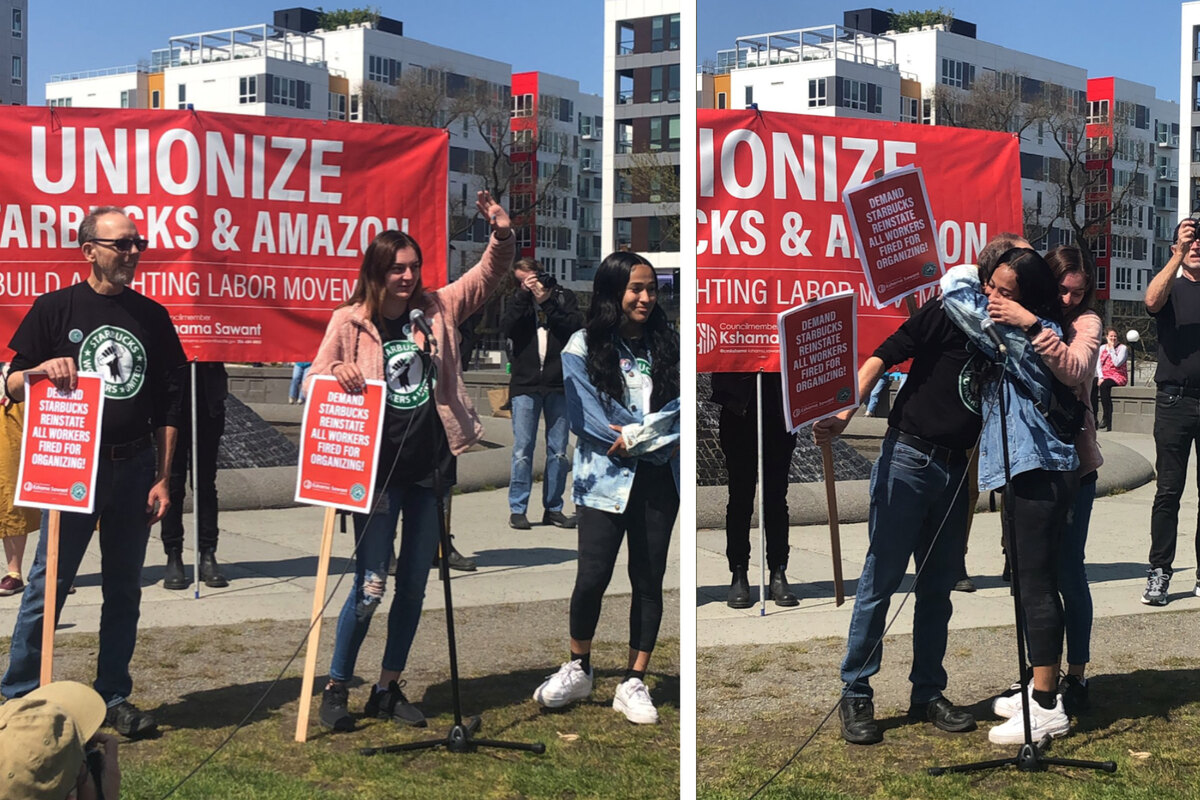 Starbucks union win at Phoenix's Scottsdale and Mayo store delayed but not denied
Starbucks union win at Phoenix's Scottsdale and Mayo store delayed but not denied
The Scottsdale and Mayo store in Phoenix, which has seen some of Starbucks' worst union-busting efforts, had its union elections counted Thursday.
Phoenix, Arizona – by Phoenix The Scottsdale and Mayo store, which has seen some of Starbucks' worst union-busting efforts, had its union elections counted Thursday.
In the tally, overseen by the National Labor Relations Board (NLRB), organizers had to win at least 50% of their store's votes plus one to unionize.
Early results showed workers voting 8-6 against unionization, bBut there were seven disputed ballots – enough to impact the outcome of the election.
This means there will be further proceedings in the case and a victory has been delayed but cannot be denied.
Justice
Roe v. Wade is on the verge of disappearing, according to a Supreme Court leak
Throughout their campaign, workers in Scottsdale and Mayo have faced severe backlash over their organizing efforts. Starbucks even fired three members of the local organizing committee.
In an interview with TAG24, Alyssa Sanchez described how her manager intentionally started scheduling her to work when she had conflicts, before eventually firing her. This behavior only started after she and her co-workers started trying to unionize, she said.
Shift supervisor Laila Dalton was fired after she recorded audio on her mobile phone while taking inventory in the store's back room. She had been the victim of repeated harassment by management throughout the unionization campaign. The news of his dismissal came just a day before the ballots for the union elections were sent out.
A third organizer named Tyler Gillette, who has autism, was promised accommodation, but was instead put on "unpaid leave of indefinite duration" after union efforts were made public.
Another member of the organizing committee, Bill Whitmire, told TAG24 that the company's treatment of colleagues was "really hurtful", but also added extra fire to their store's union campaign.
The NLRB has since filed a lawsuit against the company and filed a motion in federal court demanding that the workers be reinstated.
In the meantime, Whitmire has set up GoFundMe pages to support Sanchez and Dalton, who not only lost their jobs and livelihoods when they were laid off, but also their school fees.